Nations: Ministry:

Contents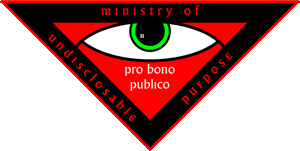 MINISTRY FILE: MIN1-D
FILLETED: 22.12.05
CLEARED FOR: PUB/36
Welcome to the website of the Ministry of Undisclosable Purpose.
There are certain things which, unless they are done, will remain undone. Things which must not be disclosed, or people will know about them. This is undeniable.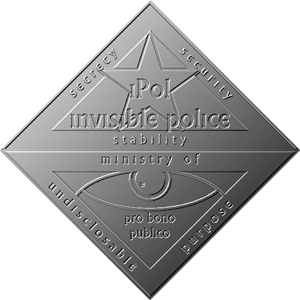 At the Ministry, we - along with our executive branch, iPol or the Invisible Police - accept responsibility for doing that which has to be done, without ever describing or explaining it. In the twilight world where the socially imperative meets the politically unspeakable or the philosophically inexplicable, we labour quietly and with gravitas, on tasks of such mystery (or even such mysterious banality) that even we are often be unaware of their purpose.
On behalf of our beloved Ladonia, we of the Ministry represent the spirit of hushed voices, of gritty necessity, and of 'realpolitik'. We know it is not merely a symptom, but the very essence of authority that it moves in a mysterious way.
Some may say that our aim in doing so is to point out how foolish, vain, self-important, and nonsensical these things are.
But we do not comment on our aim, for we are the Ministry of Undisclosable Purpose.
Manny Neira
Minister of Undisclosable Purpose
Ladonia, 'tis for thee

Ladonian flagThe Remony of Ladonia
We are not ashamed to be patriots: to put the value of Ladonian lives above the value of alien lives and - above all - to promote the prosperity and profitability of our industry and the power and prestige of our military. Ours is a Project for a New Ladonian Century.
Here is a little information about the history and life of our great nation.
Learn to Love Your Ministry!

The inescapability of our love
Despite the dangerous forces at loose in the world, there are those who seem more interested in questioning us about our methods and our motives than in supporting our war on terrorism. We understand such people well, and will do what is necessary. But to the majority of decent Ladonians we say, don't judge us, love us! We are not unreasonable: we do not demand your intellectual agreement or approval, only your blind faith and your devotion! And we do not seek power, as some would have you think, for our own sake, but because we love you in return, and our love is inescapable.

The warmth of our silence
We of the Ministry make a solemn promise: that we will not burden you with information or trouble you with complicity. Our silence is our gift to you, as your silence is your duty to your country.

The kindness of our war
Our compassion is so important to us that we are prepared to kill for it. The price of freedom is sometimes death, and though we reserve the right demand payment in advance, all those who have paid may some day be free.

The importance of our futility
Organisations like ours exist all over the world, and Ladonia can no longer afford to be the only player not in the game. However happy the Ladonians may have believed they were before our Ministry was formed, the question remains: if the people do not need us, why has every every national government equiped itself with powers like ours? We think the answer is obvious.
Back to...

Nations bit
Click here to return to the nations bit.

Nations bit
Click here to return to the home bit.
Banner exchange
To link to this page, just choose your favourite picture, and add the HTML below it to your page:
<p><a href="http://www.mannyneira.com/ministry">
<img src="http://www.mannyneira.com/ministry/banner1.gif">
</a></p>
<p><a href="http://www.mannyneira.com/ministry">
<img src="http://www.mannyneira.com/ministry/banner2.gif">
</a></p>
<p><a href="http://www.mannyneira.com/ministry">
<img src="http://www.mannyneira.com/ministry/banner3.gif">
</a></p>
<p><a href="http://www.mannyneira.com/ministry">
<img src="http://www.mannyneira.com/ministry/banner4.gif">
</a></p>
<p><a href="http://www.mannyneira.com/ministry">
<img src="http://www.mannyneira.com/ministry/banner5.gif">
</a></p>